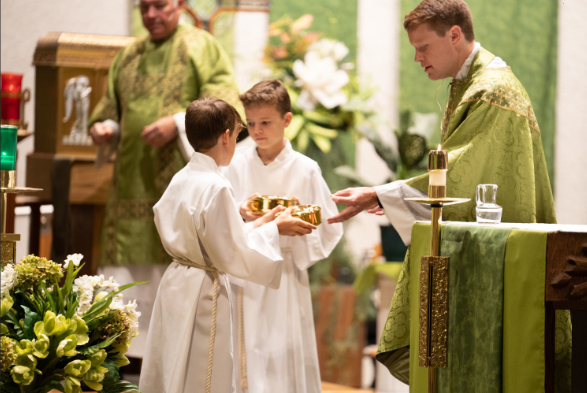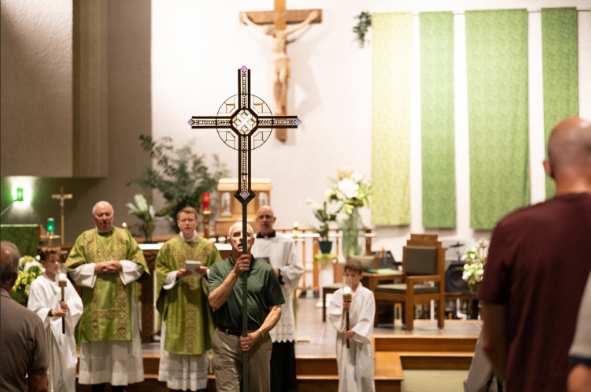 There are many ways for individuals to help serve during the Mass, and many volunteers are needed to help the liturgy run smoothly each week. If you are interested in any of these ministries, contact the Parish Ministry Center.

Eucharistic Ministers
Greeters
Lectors: Sharing your voice to proclaim the Word of God during Mass!
Cross Bearer: The Cross Bearer holds an essential part of the liturgy by leading the entrance procession at every weekend liturgy.
Sacristans: Set-up before Mass and clean- up after Mass, as well as keeping things in order for Sundays, holy days, and other special liturgies.
Servers: Servers perform the dual roles of example to the community and assistant to the celebrant and community during prayer. Young people in grades five and up, public or private school, are invited to join this ministry.
Ushers
Music Ministry

Handbell, Resurrection (funeral), and Children's Choirs
Cantors
Musicians
Accompanist (piano and/or organ)
Instrumentalist: Brass, C-Instruments, Guitarists, and Drummers for weekend liturgies or seasonal celebrations
Want to help, but prefer to stay behind the scenes? Here are some additional ways to serve outside of the Mass:
Baptismal Ministers: Individuals who assist the priest or deacon during Mass. Particularly good for individuals who love babies!
Church Decorators (Environment & Art)
Funeral Ministers: Individuals who assist at the funeral Mass. Each funeral has 4 ministers that help set-up, assisting during the liturgy if needed (readers, Eucharistic ministers, etc.). This ministry is particularly good for anyone who is retired or has flexible work hours, since it often requires daytime availability.
Liturgical Planners: Parishioners who prepare the liturgies for Sundays, feasts, and seasons. They spend time reflecting with each other on the Scripture readings and finding in those readings a way to focus on the life, death and resurrection of Christ.
Prayer Network: We currently have two telephone lines of individuals who offer their time to pray specifically for those in need. This ministry does require confidentiality.