St. Alphonsus Food Pantry
Next Collection: November 25-26

St. Alphonsus Parish has been a flagship in the Greendale community for ministry to the poor since our founding in 1938. One of these ministries is our food pantry, which was started by Iris Nowak in 1984. We serve people in the area between Layton and Rawson (north and south) and 35th-92nd Streets, plus occasional emergency calls from any location. Many families are referred to us when they call the emergency help line at 211, the Parish Ministry Center, or other pantry locations.

We provide at minimum a large food box, valued over $50 to about 50 families per month. We serve people of all ages, with a variety of work and disability situations. Most people are just like you, but going through hard times. We take great pride in being able to support them in meeting some of their basic needs.

The food pantry is open for distribution day once a month, usually the first Sunday of each month from 12-2pm. Emergency food is provided at other times of the month as needed. We encourage people to make appointments for distribution day.

Food boxes typically contain the following basics, plus other miscellaneous items:
Cereal

Canned fruit and vegetables

Tuna

Canned pasta and meat

Spaghetti sauce

Soup

Pork and beans

Mac and cheese

Rice/potato products

Peanut butter and jelly

Pasta/noodles

Paper products (toilet paper, tissues)

Baby food, formula, diapers and wipes for children
Health and personal hygiene and laundry products are provided after special collections, several times a year. As a part of the healthy families program started by Iris, we use donated funds to purchase fresh food such as meat, dairy, fruit and vegetables to supplement the non-perishables. We only purchase enough for those who make appointments, and are supplemented by a generous parish donor who provides fresh food monthly too.

All situations are kept confidential, though food pantry clients have the opportunity to share their experiences with a volunteer, who may give referrals to outside programs if deemed appropriate. Often, the clients are appreciative to have someone who knows their situation and cares about them.
Interested in Volunteering?
We have a lot of ways you can help, even if you can't make the distribution dates! As of January 2023, we have 93 active volunteers (once a month or so), and 34 occasional volunteers who rotate helping in any variety of ways. Volunteer opportunities are repeated monthly or "one-shot": shopping for fresh food, answering the phone calls and making appointments, checking expiration dates, sorting and shelving food, packing boxes, carrying and loading food into cars, meet and greet clients, intake room, folding bags, coordinating monthly collections at St Alphonsus or with other organizations, transporting food to the pantry, doing talks for school or scout groups doing collections, distributing school supplies and books donated from other organizations, setting up and cleaning up for distribution days, maintaining some boxes for distribution in the PMC cabinet for emergency deliveries and SVDP visits, writing thank you notes, making holiday cards, requesting grant money, cleaning, coordinating volunteer involvement, etc.

We could use people to independently arrange and coordinate special food collections. For new volunteers, we give them an overview of what our processes are, introduce them, talk about interaction with clients, and then usually pair them with an experienced volunteer. If you're interested, please contact the Food Pantry at 414-514-4400.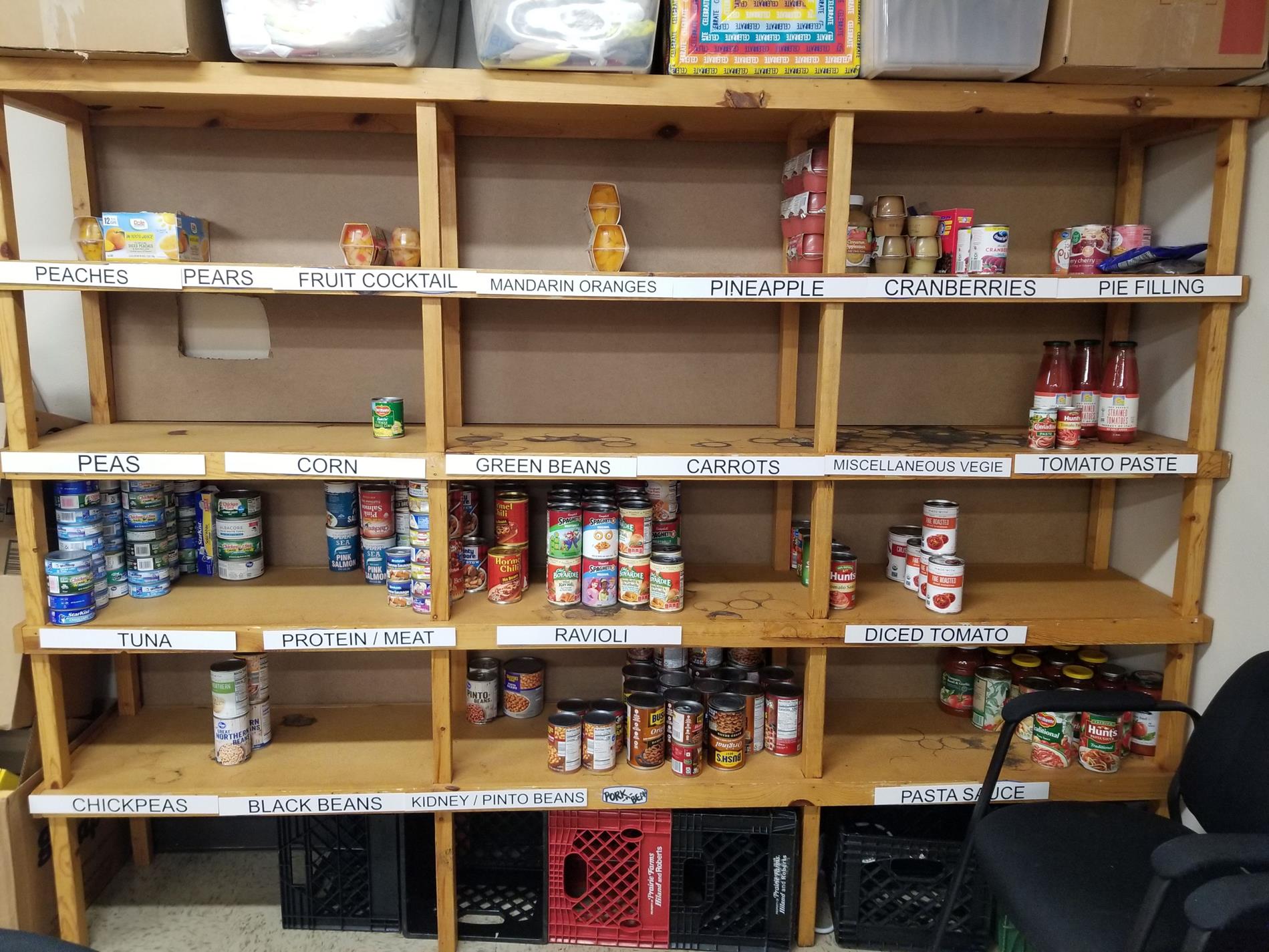 Pantry Co-Directors
Janet Kloser, Ellen Krueger, and Cathie Wilke
December 2, 2023
Next Distribution Day
414-514-4400
Call for assistance or to volunteer